Boston Dynamics is the global leader in mobile robotics. Their popular robots are SpotMini, Spot, Atlas and Handle. Now they has revealed 'Stretch', which is a new box-moving robot designed to support the growing demand for flexible automation solutions in the logistics industry.
A Massachusetts company well known for its humanoid robots and dog-like androids is preparing to muscle its way into the warehouse automation industry with its latest mechatronic solution. Warehouse automation is a fast-growing market fueled by increased demand in e-commerce. The robot called Stretch is Boston Dynamics' first commercial robot specifically designed for warehouse facilities and distribution centers.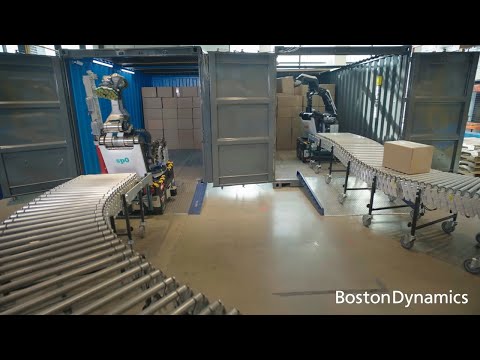 Robert Playter, CEO of Boston Dynamics said:
Warehouses are struggling to meet rapidly increasing demand as the world relies more on just-in-time delivery of goods. Mobile robots enable the flexible movement of materials and improve working conditions for employees. Stretch combines Boston Dynamics' advancements in mobility, perception and manipulation to tackle the most challenging, injury-prone case-handling tasks, and we're excited to see it put to work.
Stretch is designed for the smooth, flat floors of a warehouses. Robot can increase warehouse flow of goods and improve employee safety in physically difficult tasks. Traditional warehouse automation approaches require either installation of fixed infrastructure. Stretch can lower expensive fixed automation costs and it doesn't require costly reconfiguration or investments in new fixed infrastructure. Stretch can unload trucks and build pallets, and it does so quickly and autonomously. Michael Perry, vice president of business development for Boston Dynamics told Reuters:
Stretch is the first robot for one task that the company has built, based on requests received from companies around the world.
Introducing stretch for truck unloading: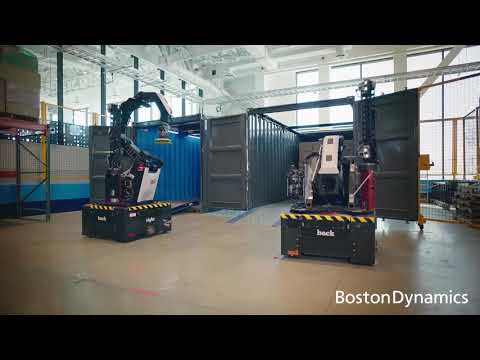 The base size of Stretch is small enough to fit standard and common transport routes in warehouses. The mobile base is omni-directional and allows movement with the ability to navigate around obstacles in loading docks, adapt to changing facility layouts and maneuver in tight spaces. The robot can handle a large variety of boxed and shrink-wrapped cases using its custom-designed lightweight arm and a smart-gripper with advanced sensing and controls.
7 degrees-of-freedom arm grants long reach and large workspace, allowing the robot to reach cases throughout a truck or pallet. Michael Perry said:
We're looking at picking up boxes around 50 pounds and our maximum rate of picking up and moving boxes can reach up to 800 cases per hour. So, it's a fast-moving, highly versatile robot. We heard pretty much universally across warehousing that truck unloading is one of the most physically difficult and unpleasant jobs … And that's where Stretch comes into play.
Boston Dynamics has equipped the robot with computer vision technology that allows easy identification of boxes. Its vision system works in tandem with pick & place activity, enabling high pick rates. Stretch can pull additional equipment behind it and use it when needed. The cooperation with transport system based on roller conveyors makes the robot almost independent mechatronic system. Boston Dynamics is
currently seeking customers
to pilot test deployment of Stretch with truck unloading tasks ahead of its commercial deployment in 2022.