There are often informations about the new bionic hand design. These are both commercial solutions and student projects. But from time to time there is designed a mechatronic system, which is impressive in terms of technical advancement.
Dexterous Hands developed by Shadow Robot Company are nowadays one of the most advanced humanoid robot hand. Shadow Robot currently offers 2 types of hands with different technical capabilities:
Shadow Dexterous Hand, 20 actuated Degrees of Freedom (DOF) and a further 4 under-actuated movements for a total of 24 joints, its weight is 4.3 kg and its maximum payload is 4 kg.
Shadow Dexterous Hand Lite, 13 DOF across 16 joints, its weight is 2.4 kg and its maximum payload is also 4 kg. It is a smaller, lighter, cost-effective package. There's no little finger (unnecessary for nimble tasks) or wrist (for easier mounting onto a broader range of robot arms).
The Shadow Dexterous Hand is our flagship product. It's the ONLY robot hand on the market to have 24 movements and 20 degrees of freedom (DOF) for increased flexibility in grasping and manipulating a range of objects.
Both mechatronic systems are compatible with EtherCAT interface, ROS open source platform, standard pressure sensor tactiles (PSTs), standard force sensors, easily integrated on robot arms and upgradable with other components.
Shadow Dexterous Hand's fingers move side to side independently, for unparalleled dexterity and there's a total of 129 sensors to increase accuracy and enable high-level precision. It approximates the kinematics of the human hand including the thumb, the flex of the palm for the little finger, and even the fingernails.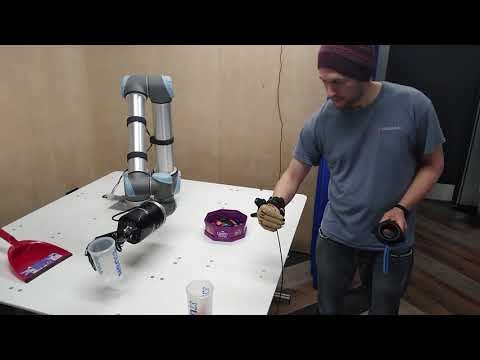 Dexterous Bionic Hand application areas:
Research & Development
Nuclear Safety & Decommissioning
AI/ Machine Learning
Teleoperation
Manufacturing
Telepresence/ Avatars
Pharma & Biomedical
Space Robotics
It uses an open-source platform giving researchers full access to the code along with editing ability to help researchers develop software for their own specific needs. AI and machine learning researchers have programmed the Hand to provide naturalistic simulations in a way that simple computer-driven algorithms cannot.