The compact robotic cell that would accurately load products onto a pallet is nowadays just the next automatic stage of production. Nestlé in Brazil Caçapava was looking for a robotic palletizing solution for its candy and chocolate bars. ABB robotic palletizing cell have helped them achieve safe and efficient pallet loading of boxed products.
The challenge is standard but responsible due to the last point:

accurately load products onto a pallet,
reduce the need for rework,
allow staff to work safely around the robot.
The robotic palletizing cell uses an ABB IRB660 robot equipped with a suction gripper head. It moves boxes from the end of the production line to the pallet. This mechatronic system stack the boxes accurately to ensure a balanced load and reduces the rework needed to rebalance the pallets and avoids damage to boxes.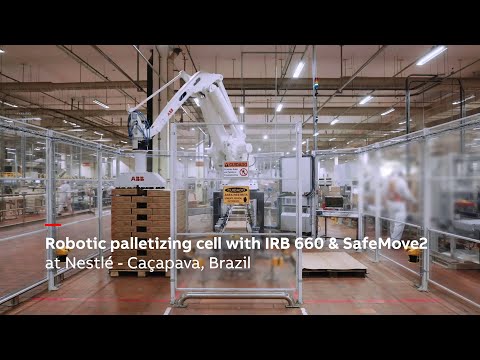 Personnel would sometimes need to enter the robot's operational area to speed up the pallet changes. So, it requires a robotic solution that could work around staff without risking their safety. ABB's SafeMove2 technology utilize a zoned approach that divides the robot's working envelope to different areas. It allows robots to work alongside people safely and reliably, without the need for strict separation:
SafeMove includes several safety functions, including safe speed limits, safe standstill monitoring, safe axis ranges and position and orientation supervision. Using safety sensors installed in the cell, the operator's movements are detected as they approach the robot. If an operator is in the 'green' zone, the robot will move as normal. Stepping into the 'amber' zone will cause the robot to slow down and restrict its movements to help minimize the risk of accidental contact with the operator. If the operator moves into the red zone, the software will bring the robot to a complete stop, only restarting it once the zone has been cleared.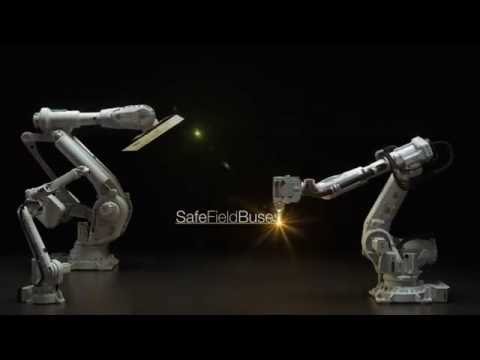 Other important thing is productivity optimization by reducing the losses. Douglas Barbosa, Project Engineer at the plant, said:
We achieved great results, reducing maintenance costs, increasing the line's productivity by 53%, reducing the losses and the need for manual rework, and the cell is already prepared for the possibility of an increase in future production capacity.
To date, Nestlé has installed 13 palletizing cells in its Brazilian factories, all using ABB SafeMove, with several more undergoing installation and commissioning.