Mechatronics engineering at Middle Tennessee State University - USA

Department of Engineering Technology
Middle Tennessee State University
MTSU Box 19
1301 East Main Street
Murfreesboro, TN 37132
etdept@mtsu.edu
615-898-2776
MTSU's new Mechatronics Engineering degree program is on the cutting edge of a fast-growing industry. Jobs are waiting for engineers to design and enhance robotics and automated systems. The design process of mechatronics combines mechanical, computer, and electrical engineering along with systems integration and technical project management. A surgical robot is a perfect example of a mechatronic system, performing precision mechanical work under sophisticated electronic and sensory control. Unlike traditional programs, MTSU's mechatronics has a systems approach, breaking the whole down into subsystems and then components, so that graduates can design products with a system in mind, not just one component. Rutherford County auto industry giants Bridgestone, with a mechatronics facility at its LaVergne education center, and Nissan are among worldwide and local partners in the program.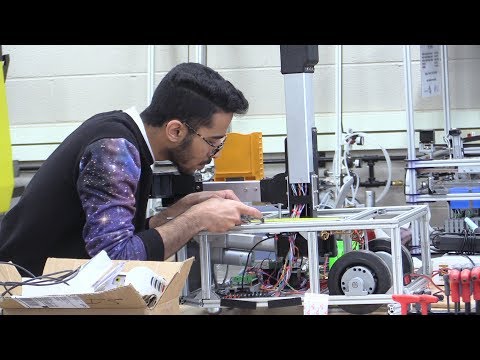 The Mechatronics Engineering degree encompasses knowledge and skills in mechanical engineering, electronics engineering, digital controls, computer programming, and project management to enable the students to analyze and design automation and robotics systems used in today's advanced manufacturing environment. This program offers preparation in diagnostics and design of integrated industrial automation systems as well as the various aspects of project and process management, systems engineering, and risk management. This program emphasizes the latest techniques in systems approach in design and problem solving which is highly supported by today's industry. The Mechatronics Engineering program is designed to prepare students for engineering positions as automation system designers and project managers in various industries such as automotive, aerospace, advanced manufacturing, green energy, biotechnology, healthcare, homeland security and defense, and transportation and logistics.
Read more Middle Tennessee State University- Mechatronics.