There are various applications of mechatronic solutions. One of them is an art. Korean media artist group JônPaSang made something special for Hyundai Motor Group pavilion at 2012 Yeosu EXPO exhibition. The whole project started on 1st March and finished on 30th April. It was only 2 months to make such a large project but as Yang Sookyun said,
It's too short time to make that big project but, as you know.... we are Korean.
The construction is about 8 m high and 45 m wide. The visible elements of the system are cubes that move on due to a specially prescribed programme. When it starts we can see a great show.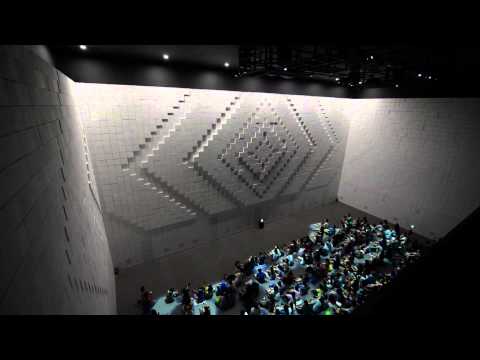 Hyper-Matrix - how is it made
The size of the cubes is 30x30cm and they are made of styrofoam. All parts are driven by 3375 customized actuators and stepping motors. Both RS-485 and CAN are used as a communication system, which provides high-speed data transfer. CAN bus (for controller area network) is a message-based protocol, designed specifically for automotive applications but now also used in other areas such as industrial automation and medical equipment.