It is a hard time for all of us, but the mechatronic systems can support us. Teams of engineers and scientists are working on different solutions, such as cleaning and disinfection robot for potentially contaminated surfaces in buildings such as door handles, light switches or elevator buttons.
Cleaning robots often spray the cleaning agents over a large area. The scientists from Fraunhofer Institutes presented DeKonBot, the prototype of a cleaning and disinfection autonomous robot. Compared to cleaning by hand, the use of robots reduces the risk of infection for the cleaning staff and at the same time ensures that the cleaning task is carried out reliably and traceably.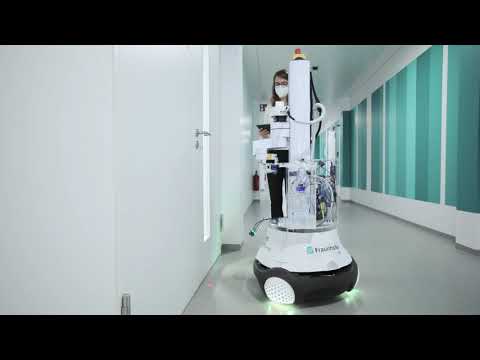 DeKonBot is initially trained in its new operating environment. An image processing, machine learning methods as well as a newly developed multimodal 3D sensor are used. It allows even detecting the position of metallic and reflective objects.
First of all, the member of operating staff navigates the robot once through the environment, during which it independently creates a map of its operating environment. In addition, the user "shows" the robot the objects to be cleaned and the cleaning movement to be performed: For this purpose, the user guides the robot arm with the disinfection tool to the door handle, for example, and moves the tool as required to clean it. The robot saves the path and is subsequently able to repeat it independently. The objects to be cleaned are currently still recognized by means of so-called "tags", i.e. small, black-and-white labels. The robot positions itself relative to these tags.
DeKonBot has not yet reached its full range of functions but researchers at Fraunhofer Institute for Manufacturing Engineering and Automation IPA have already developed a concept for a later serial product. Dr. Birgit Graf said:
Together with interested companies, we would like to put the service robot into practice and thus make a contribution to restarting public life even in times of the coronavirus