Mechatronics engineering at SRM University (எஸ்ஆர்எம் யுனிவர்சிடி) - India

Head Office
Address:
3 Veerasamy Street,
West Mambalam,
Chennai 600 033.
Phone: +91-44-2474 2836, +91-44-2474 7231,
+91-44-2489 2621, +91-44-2489 3688
Fax: +91-44-2474 8925
The B.Tech. program in Mechatronics is one of the newly introduced programs under the umbrella of the Department of Mechatronics established in the academic year 2005-2006. The department, apart from the undergraduate program, is engaged in many other activities such as industrial consultancy, industrial training, research, organizing seminars and conferences.
Undergraduate
The programs offered by the department are interdisciplinary and they draw faculty members from mechanical engineering and electrical sciences along with other basic servicing departments. Well-trained faculty members with experience in imparting knowledge to the students are grouped in this department.
Faculty & research
The members of faculty have vast industrial experience and they are engaged in consultancy. A few faculty members are currently processing their research proposals for submitting to funding agencies. The proposals submitted relate to the current needs of the industry like machine vision and creation of fully automatic manufacturing systems.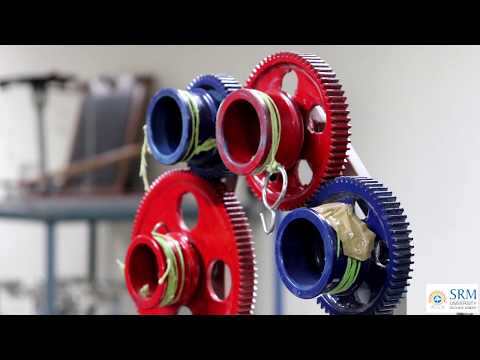 Major events & achievements
This young department is already planning to hold a national conference in the current academic year, besides inviting guest lectures by experts from industry and research organizations. The department organizes visits to various industries having mechatronics systems for the benefit of students. In a short span of time the course has attracted enormous attention from talented students. Under the semester abroad program 5 students have been sent to different universities like Massachusetts Institute of Technology-USA, University of California-Davis, USA and Kyushu Institute of Technology-Japan.
Industrial connections
As mentioned above, a few faculty members have considerable industrial experience. They continue to interact with the local industries on key issues. Further, some of the issues are converted into formal consultancy projects, and such projects are under progress.
Careers
Modern machines in industry do not belong exclusively to any one branch of engineering, as they are interdisciplinary in nature. The graduates passing out of the program will have better future and career growth in such interdisciplinary sectors. The students have bright job prospects in the automobile manufacturing, engineering and electronics industries.
More info SRM University - Mechatronics