Mechatronics engineering at Qatar University كلية الهندسة - جامعة قطر
Department of Mechanical and Industrial Engineering

Doha, Katar
+97444034100
The Department of Mechanical and Industrial Engineering offers broad-based degree programs complemented by a wide range of research activities.

There is no knowledge-based economy without an industrial, productive foundation. A mechatronics engineer helps the state to boost its productivity. Boosting productivity and estabilishing factories of high productivity and quality.
said dr. Mohammed Al-Hitmi, Head of the Department of Electrical Engineering College of Engineering - Qatar University.
With the development of the Qatari economy and society, the university developed new and modern programs that combined between several engineering courses. The mechatronics program combines between mechanical engineering, electrical engineering and electronic engineering. Therefore, you will find that mechatronics projects include what we call 'cutting-edge technology'. The drones which referred to as the unmanned aerial vehicle and the satellites, all of those are mechatronic-based technology.
said prof. Elsadig Mahdi, Head of the Department of Mechanical and Industrial Engineering College of Engineering - Qatar University.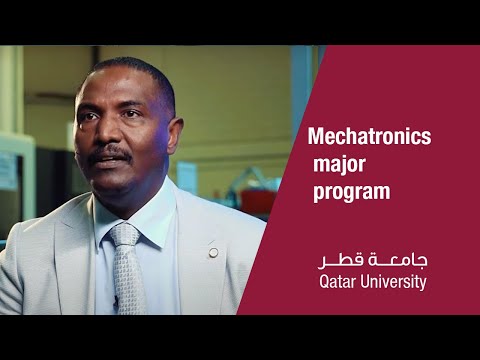 Qatar university allows you to participate courses that combined between mechanics and electronic. Independent mechatronics department creates an opportunity of leap in the development of Qatar's technology and the world in general. The mechatronics department is the future of engineering. The concept of manufacturing and the development of manufacturing exist around the world. The local manufacturing requires mechatronics engineers who are able to develop manufacturing that keeps pace with the international one.
Students receive support to attend international conferences and to visit other universities overseas. Both our Industrial and Systems Engineering, and Mechanical Engineering programs are accredited by the Engineering Accreditation Commissions; EAC of ABET.

Read more Qatar University - Mechatronics