Traditional rigid robotic grippers are widely used in industry, but gentle and adaptive manipulation is limited. Scientists [1, 2] found the bioinspired way to create multi-degree-of-freedom soft actuators with appropriate sensory capabilities. Authors produced soft mechatronic fingers using embedded 3D printing and use integrated ionogel soft sensors.
The manipulator consists of three fingers in a triangular orientation, which allows different grasping poses. They are comprised of an organic ionogel that provides reliable sensory feedback without hysteresis in conductivity. Sensors and actuators are embedded into fingers.
As a demonstration, we print soft fingers with two discrete fluidic networks that allows for tip, base, and full-finger actuation and multiple grasping motifs. Four soft resistive sensors - two curvature and two contact sensors - innervate each finger.
Presented gripper has two FEA networks for a base and tip actuator, that drive bending of the base and tip regions of the finger. But for other application it is possible to create actuators with an arbitrary number of free-form sensors and actuator networks. Future-proof looks embedding printing technique (EMB3D), where the fugitive and sensor inks are directly extruded into uncured elastomeric matrices through fine nozzles.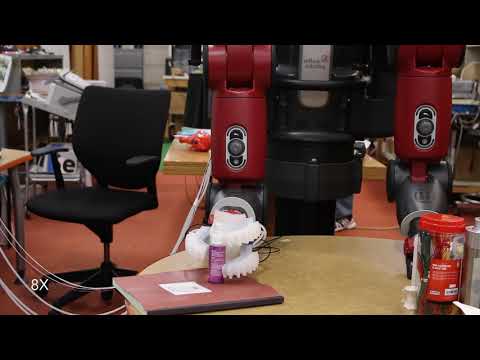 The fugitive ink is a viscoelastic gel of Pluronic F127 (...) that exhibits a solid-to-liquid transition around 2-5 C degree. The sensor ink is an organic ionogel comprised of 1-ethyl-3-methyl-imidazolium ethyl sulfate (Sigma) filled with 6 wt% fumed silica particles (Aerosil 380, Evonik), which impart the appropriate yield stress needed for printing.
Production of gripper elements is multistages:
1. finger printing - 90 minutes,
2. curing overnight - 12 hour,
3. curing for 4 h at 80 C degree,
4. refrigerating to liquefy the fugitive ink - 1 hour,
5. inserting 2 nozzles into the fingers' actuator matrix, through their back end and into the actuator network inlets,
6. filling the actuator networks with ice-cold water to remove any Pluronic F127,
7. removing residual water by heating the fingers in an oven for 2 hours at 80 C degree.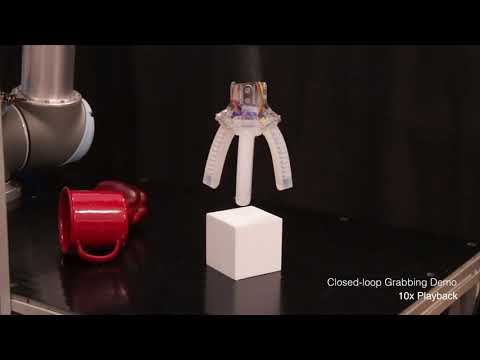 Fingers are actuated by inflating the actuator networks in 10 kPa intervals every 30 seconds using Festo pneumatic valve manifold. The maximum pressure is 200 kPa. The gripper is mounted to a UR5 robot arm (Universal Robots) using a 3D printed mount. The fingers are inflated using a MATLAB-controlled.
Scientists developed an algorithm for closed-loop, autonomous grasping of objects using the soft contact sensors in each finger and different grasping motifs. Algorithm guides the gripper to make robust contact with object before it tries to lift them.
References:
[1] Homberg, B. S., Katzschmann, R. K., Dogar, M. R., & Rus, D. (2015, September). Haptic identification of objects using a modular soft robotic gripper. In 2015 IEEE/RSJ International Conference on Intelligent Robots and Systems (IROS) (pp. 1698-1705). IEEE.
[2]Truby, R. L., Katzschmann, R. K., Lewis, J. A., & Rus, D. (2019, April). Soft robotic fingers with embedded ionogel sensors and discrete actuation modes for somatosensitive manipulation. In 2019 2nd IEEE International Conference on Soft Robotics (RoboSoft) (pp. 322-329). IEEE.