Image stabilization is very important during filming in challenging conditions, such as a helicopter flight. Gyro stabilized camera mechatronic system allows to eliminate adverse picture motion during panning, tilting and rolling so that recorded video is smooth. These systems are of a high bandwidth design and rely on complex electronic sensors, actuators and motors to correct the base motion from affecting the camera. All of the systems utilize the electronic control servo loops, are extremely fast acting (high bandwidth).
MEMS gyroscope is used to measure inertial angular rotation. The control system is based on pre-set parameters and angular rotation signal which controls motors and actuators. BlueSky has provided us a video that shows the work of a 5-axis camera stabilizing system. The drivers counteract all camera movements relative to earth and simultaneously realize the position changing inflicted by a user.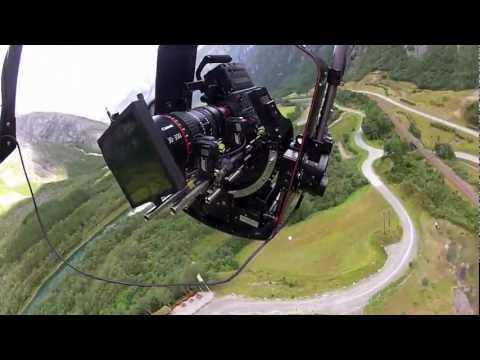 Thanks to these mechatronic systems we have the ability to watch smooth videos filmed in conditions where a man is not able to prevent vibration.